ESL Hotel Conversation
On this ESL hotel conversation page there are example conversations to study and exercises to do. You need to be prepared when you want to speak to someone and have a conversation with them, and this page will act as a primer to make you ready to do this.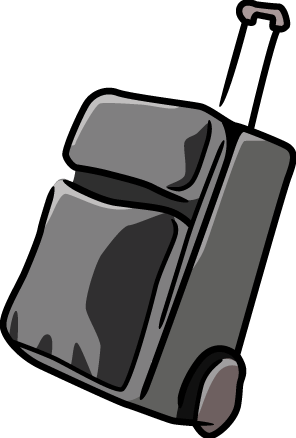 To begin with this page has ESL hotel conversation examples that you should read and study to see how hotel vocabulary is used in a natural situation. The two example conversations have also been made into short cartoons so you can watch them as well as just reading the words. The cartoons have visual clues that you can use to help you understand what is being said. If you need help with any of the hotel words that are used in the ESL hotel conversations you can look at the ESL hotel vocabulary page. 
Then the next part of the page has exercises for you to do so you can get practice of having conversations of your own. The three exercises are as follows:
Fill in the blanks in a conversation.
Write a conversation.
Conversation topics.
Conversation 1
Situation: Jane and Tui plan a weekend break. Jane speaks to Tui on the telephone.
Jane: Hello Tui, it's Jane.
Tui: Hi Jane.
Jane: I was thinking about having a few days away at the weekend. Will you be able to join me?
Tui: That sounds great. Where were you planning to go?
Jane: I would like to stay in London.
Tui: I enjoy visiting London. There is so much to see.
Jane: I will book two single rooms at the Holiday Inn. It is situated just off Oxford Street.
Tui: If we are near Oxford Street, we are very close to the big stores.
Jane: I will book today.
Tui: Is it very expensive?
Jane: Most good London hotels are expensive but we can get a special three day weekend break offer.
Tui: What does that cover?
Jane: We get bed and breakfast and £20 towards the cost of dinner.
Tui: That sounds fine. Let me know when you've had our booking confirmed.
Jane: I will pay by credit card over the phone.
Tui: Is it okay if I pay you when we leave on Friday?
Jane: Yes, of course.
Tui: I'm looking forward to our weekend away.
Conversation 2
Situation: Jane and Tui arrive at their hotel in London.
Jane: Hello, I've booked two single rooms. My surname is Major.
Receptionist: Welcome to the Holiday Inn, Oxford Street. Please sign the register.
Jane: I've stayed here before so I know that your hotel is very comfortable and convenient for visiting the stores in Oxford Street.
Receptionist: Here are your room cards. When you insert them into the slot on your room door, the light will change from red to green. When the green light is on, your room is unlocked.
Tui: Shall we take the lift?
Jane: Yes, it is a long climb up to the eighth floor.
Tui: Here we are. Room 820.
Jane: I'm next door. Room 822.
Tui: When I've unpacked, I'll knock on your door and we can decide where we want to go.
Jane: Okay.
Jane: Come in Tui. I could see you were at the door through my security peep hole.
Tui: My room is very luxurious. I have a bath and overhead shower, a television, a fridge and tea making facilities.
Jane: Yes I'm very happy with my room. It is very clean. There are lots of information leaflets about places to visit in the folder on the dressing table.
Tui: I'll put the kettle on for a cup of tea, and then we can go out and enjoy the sights of London.

ESL Hotel Conversation Exercises
The skill of being able to talk and have a conversation in English is hard to learn unless you practice it, and the following tasks will give an opportunity to do that (to practice it). Spend time now working hard on these exercises and it will be easier to speak in the future.

Exercise 1 – Fill in the Blanks
For this ESL hotel conversation task you need to read the following conversation and decide which option (A-D) from each question should be used to fill in the blanks that have been left. When you have finished you can see the correct answers by using the get score button.

Situation: Jane talks to the hotel receptionist.
Jane: Hello. Can you help me? __________[1]__________.
Receptionist: Certainly, I'll try.
Jane: I'm Jane Major and my room number is 822.
Receptionist: Yes I remember you checking in just a short time ago.
Jane: _________[2]__________, however it overlooks Oxford Street.
Receptionist: Yes a lot of our rooms overlook the street.
Jane: Even with the double-glazed windows closed, _________[3]_________.
Receptionist: The traffic is non-stop day and night unfortunately.
Jane: Would it be possible to have a room in a quieter location?
Receptionist: All the rooms at the back of the building are fully occupied but _________[4]_________.
Jane: That will be better. I should be able to _________[5]_________. Thankyou.
ESL Hotel Conversation
Choose the best option (A-D) in the following five questions to fill in the blanks in the Hotel conversation given above.
Exercise 2 – Writing a Conversation
In this ESL hotel conversation activity you need to write a conversation of your own. You can use the above conversations as examples. The conversation should be about hotels and staying in hotels. You will need to decide on who the people will be that are having the conversation and where it happens. Write as much as you can and try to use as much of the hotel vocabulary as you can. Once you have finished you should find a friend and perform the conversation so you can get practice of speaking.

Exercise 3 – Conversation Topic
Now, in this ESL hotel conversation exercise you need to have a conversation with someone. You can use the following conversation cards to help you. There are two sets of conversation questions, and one person should have the first set and the other person the second set. Take it in turns to ask questions from the cards. If you can think of other questions to ask it is very good, as this will mean you are having a real conversation; so, say as much as possible to get as much practice as possible. The questions have been made into a set of conversation cards that you can download by clicking the following picture
If you liked these conversation cards you should look at my 80 ESL Conversation Cards book that you can download.
Question set A
When was the last time you stayed in a hotel?
What is the best part of staying in a hotel?
Have you ever worked in a hotel? If so, what did you do?
How is staying in a hotel different from staying at home?
What are the most important things for a hotel to do well?
Question set B
How many times have you stayed in a hotel?
Do you like staying in a hotel? Why?
What do you not like when you stay in a hotel?
Do you think that people who work in a hotel have a good job?
Is it better for people to stay in cheap or expensive hotels?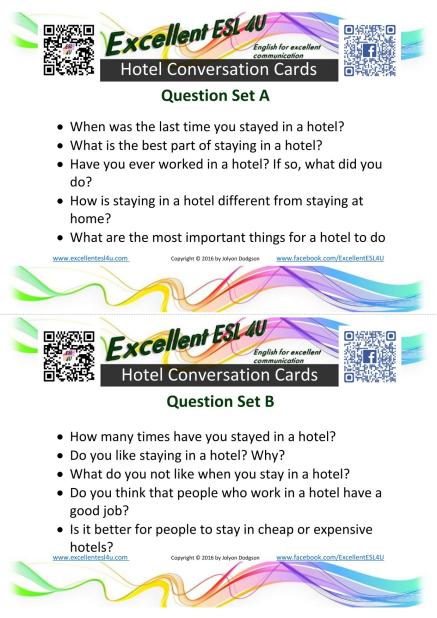 ESL 4u home

›
Conversation
› Hotel