About Excellent ESL 4U
Excellent ESL 4U is a site to help you learn practical English.
The aim is to provide information about topic areas that will enable you to get better at using English. Each topic area will have vocabulary for you to learn and then exercises to help to remember it. These will be to do with conversations using the vocabulary, reading and listening activities to help you see how the vocabulary is used and then writing tasks so you can use the vocabulary.
The teaching material will be based on flashcards, videos and recordings of native speakers, as well as the written text of the site. This multimedia approach will give you, the learners, as many ways as possible to learn the topic information.
The topics will be written so that there is something for learners of all levels. Some topic areas will be for beginners, others for intermediates and some for advanced students. Start with the level that is best suited to you and progress as your English improves.
The site will also include a grammar section, but this will not be written until the main part based around vocabulary topics is well established.
About Jolyon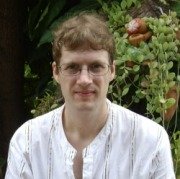 I am Jolyon and I wrote, and am still writing, this site.
I am an ESL teacher who has quite a few years' experience. I am a native English speaker from the UK. I was just completing my PhD in biology when I decided to become an ESL teacher. I competed a training course and moved to Thailand where I still live and work as an ESL teacher in a Faculty of Science.
My main task is to teach the English for Science class, but I have also worked in several private English schools and also had my own pupils. I also work as an academic (mainly scientific but also other subject areas) proofreader and editor who helps non-native English speaking scientists get their research papers published in international academic journals.
Something that I noticed about my students was that they were all quite shy and did not really like participating in the classes, despite them being quite good at English. So I decided to write a site that would let students work and learn English by themselves at their own speed. Hopefully students in small groups will be able to work through this site and help each other get better.
I hope that this site will benefit many students so that they become better at understanding and using English.
Contact Excellent ESL 4U
If you have any ideas for topic areas that I should cover or any other suggestions please contact me. There is the contact me page on this site or the Excellent ESL 4U Facebook page. I would love to hear what you think of my site.
ESL 4u home
› About ESL 4U