ESL Kids Houses Vocabulary
This ESL kids houses vocabulary page has a list of words about houses. You can use the information on this page to teach your kids all the names of the different parts of a house.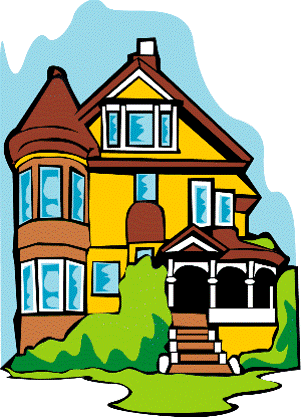 It is good to start to learn a new language when you are as young as possible, so there is a lot of material on this page for you to use with your children to help them learn vocabulary about houses. You can both work through the material so that your kids remember all the words. When doing this it is best if you work for a short time each day, as this will mean your children will learn the words better.
The following sections on this page are for you to use when teaching the ESL kids houses vocabulary to your children:
Houses vocabulary list.
Picture flashcards of the vocabulary.
Video of vocabulary being spoken.
Various games, worksheets and wordserach for you to download and use.
ESL Kids Houses Vocabulary List
This part of the page has a list of all the kids houses vocabulary with pictures showing what the words mean. You can use the list and pictures to teach your kids the words. After the list there are picture flashcards of the items for you to download. Then finally there is a video of the vocabulary being spoken by a native English speaker.

| | | |
| --- | --- | --- |
| | | |
| Attic/loft | Basement/celler | Bathroom |
| | | |
| Bedroom | Ceiling | Curtains |
| | | |
| Dining room | Door | Flat/appartment |
| | | |
| Garage | House | Kitchen |
| | | |
| Light | Light switch | Living room |
| | | |
| Roof | Socket/outlet | Stairs |
| | | |
| Wall | Window | |
Kids Houses Vocabulary Flashcards
The following flashcards have the vocabulary words and pictures on them, and you can download them by either clicking the picture or the link. You should use the flashcards whenever you have a few minutes of spare time to reinforce your kid's learning of the vocabulary.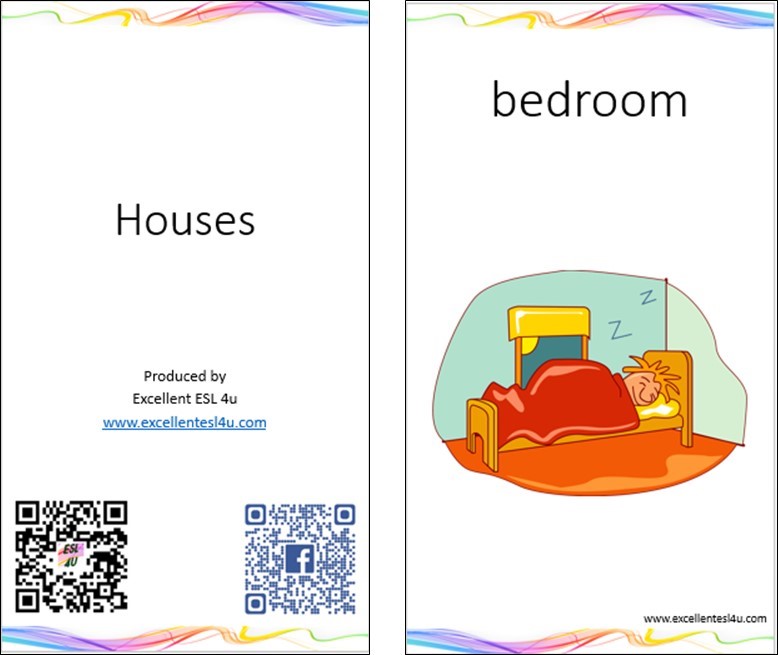 Spoken Kids Houses Vocabulary
In this section the houses vocabulary has been recorded when being spoken by a native English speaker. You can listen to the pronunciation at the same time as seeing the picture flashcards. Try to listen to this each day so that your children will learn the correct way to say the vocabulary.

Worksheets and Games about Kids Houses Vocabulary
The following has links to all the games, worksheets and wordsearch that are about the ESL kids houses vocabulary. You can click the links to download them so you can use them with your kids. Just use one or two each day and work through them over a few days.
ESL games for kids
ESL kids worksheets
Wordsearch for kids
ESL 4u home

›
Kids Vocabulary
› Houses