ESL Kids Clothes Vocabulary 1
This is the first of two pages about ESL kids clothes vocabulary. When your children have learnt all the vocabulary on this page and the ESL kids clothes vocabulary 2 page they will be able to talk about what they are wearing or want to wear.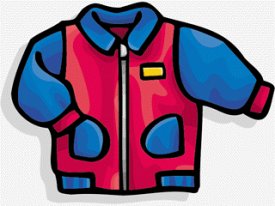 This page has lots of free material for you to use when working with your kids to learn the vocabulary. You should not try to use all the material at the same time. So play a game with the flash cards and vocabulary video one day and then the next day use one or two worksheets. Then the following day use something else. This is the best way to help your kids learn English.
All the material on this page is divided into four sections as follows: 
Vocabulary list.
Picture flashcards of the vocabulary.
Video of the vocabulary items being spoken.
Downloadable games, worksheets and wordsearch.
ESL Kids Clothes Vocabulary 1 List
This list has 20 clothes words for your kid to learn (and there are another 20 on the second kids clothes page). Each word is illustrated with a picture that will make sure your child understands the meaning of the word. The vocabulary has been made into picture flashcards that you can download and use anytime you and your family have free time. Then there is a video with the vocabulary being spoken by a native speaker so you can listen to the correct pronunciation.

| | | |
| --- | --- | --- |
| | | |
| Bag | Belt | Blouse |
| | | |
| Boots | Boxer shorts | Cap |
| | | |
| Coat | Gloves | Hat |
| | | |
| Jacket | Jeans | Scarf |
| | | |
| Shirt | Shoes | Shorts |
| | | |
| Skirt | Socks | Trousers/pants |
| | | |
| T-shirt | Underwear | |
Kids Clothes Vocabulary 1 Picture Flashcards
The flashcards in this section are for you to download and use with your kids to help them remember the clothes words. You can print them out and carry them with you so that whenever you have free time you can spend it with your kid helping them remember the words. Just click the picture or following link to download the flashcards.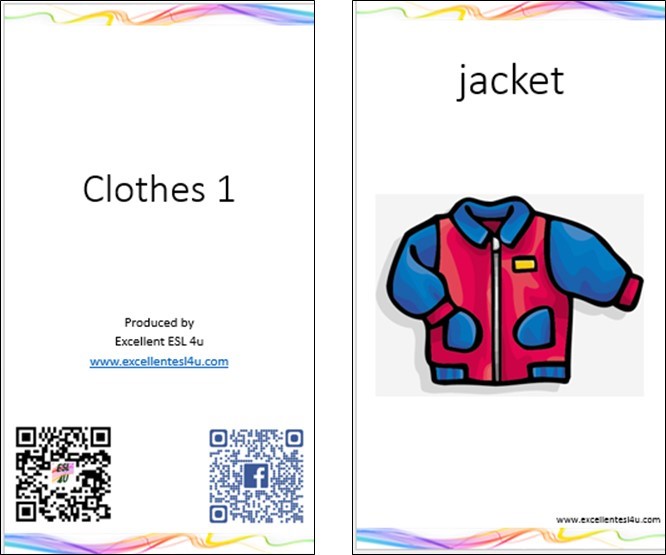 Kids clothes picture flashcards 1

Spoken Clothes Vocabulary 1
The following video shows the clothes picture flashcards at the same time that the vocabulary is spoken by a native English speaker. Listen to this so you can hear the correct way to say the words. It will be best if you listen once or twice each day for a few days.

Worksheets and Games about Kids Clothes Vocabulary 1
This part of the page has games, worksheets and a wordsearch that you can download and use to help your children learn the ESL kids clothes vocabulary 1. When using them you practice remembering all the words and using the correct one. Just use one or two each day and come back every day to review what your kids have learnt.
ESL games for kids
ESL kids worksheets
Wordsearch for kids
ESL 4u home

›
Kids vocabulary
› Clothes 1