ESL Birthday Conversation
This ESL birthday conversation page has a couple of conversations for you to look at and use as examples and then several exercises for you to do. These will let you prepare for having full conversations with strangers or new friends when you need to talk about birthdays.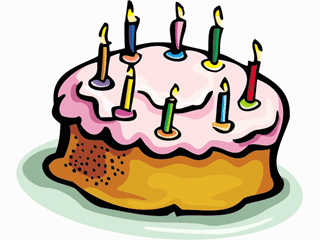 The first part of this page has two example ESL birthday conversations for you to read and understand. These will show how birthday words are used in a conversation for people to talk about birthdays. If there are any words that you do not understand you can use the ESL birthday vocabulary page to look up their meanings. The conversations have also been made into to short cartoons that you can watch. These also have visual clues to help you understand what is being said.
Then, the second part of the page has the following three exercises that you can do to improve your ability to use the words in ESL birthday conversations:
Fill in the blanks in a conversation.
Write a conversation.
Conversation topics.
Conversation 1
Situation: Lucy meets Bob in a greetings card shop.
Bob: Hello Lucy. I need some advice. Can you help me?
Lucy: I'll try Bob. What is your problem?
Bob: I've been invited to my Great Aunt's birthday celebration. She reaches the great age of 100 years next week.
Lucy: That's amazing! Will you be able to go?
Bob: Yes. I am trying to find a suitable card for her but there are only two cards in the 100 year old section. I don't like either of them.
Lucy: I would suggest that you find a card that is beautiful to look at but left blank inside for your own message to be added.
Bob: That's a very helpful suggestion. Thanks.
Lucy: Also they sell adhesive numbers that you can put on the card if you wish.
Bob: I'll do that. Can you suggest a suitable present for me to take?
Lucy: When you reach such a great age it is difficult to find something that she needs.
Bob: She is a little deaf but her eyesight is good. When I visit her she always complains of cold feet.
Lucy: Well what about a pair of lovely warm socks?
Conversation 2
Situation: Andrew and Tui attend Jane's birthday party.
Andrew: Happy birthday Jane.
Tui: Thank you for inviting us to your party.
Jane: Come in. Lovely to see you both. There are lots of people here that you know. Come and help yourselves to the food.
Tui: Doesn't Jane look happy? She is so excited!
Andrew: My goodness! There is so much to eat, I'm glad I didn't have much lunch.
Tui: It all looks amazing. A good job the plates are large. I'm going to have a little of everything.
Andrew: I love salmon and the king size prawns look irresistible.
Tui: I fancy the cold ham and salad. These fresh bread rolls are warm.
Andrew: Let's go and find somewhere to sit.
Tui: That was delicious. I've still room for trying the selection of sweets.
Andrew: I don't want trifle or fruit but the different cheeses look tempting. I'll get a selection.
Tui: Look, Jane is bringing in her birthday cake.
Andrew: I think it's a chocolate cake. I won't refuse a piece of that.
Tui: Happy birthday Jane. Thank you for such a wonderful meal.
Andrew: Let's go into the other room and talk to some of our friends.
Tui: The music is very loud. I think you'll have to shout.
Andrew: I've a loud voice so no problem.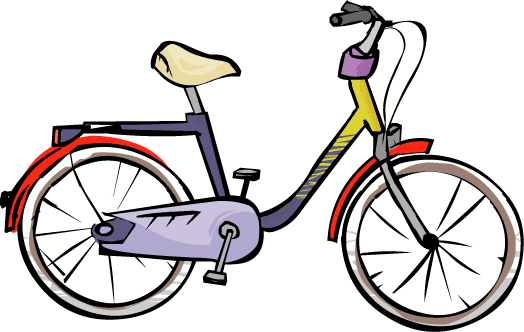 ESL Birthday Conversation Exercises
This part of the page has several ESL birthday conversation exercises for you to do that will test your ability to use birthday vocabulary when having a conversation. The more effort you put into doing the tasks the more you will learn, so take your time and try to do them really well.

Exercise 1 – Fill in the Blanks
For the first ESL birthday conversation activity you need to read and understand the following conversation. You then need to decide which option (A-D) in each question is the best one to fill in each of the blanks that have been left in the conversation. When you have finished you can use the get score button to see how many you got correct.

Situation: Bob enters a greetings card shop.
Bob: Could you show me where I can find cards for a specific age group?
Assistant: Certainly, they are over here.
Bob: I'm looking for a card __________[1]_________.
Assistant: They are not often needed. Unfortunately we __________[2]_________.
Bob: I don't think either card is suitable I would like a _________[3]_________.
Assistant: Maybe if you look in this section you will find a pretty card.
Bob: They are not showing the number 100 on the front.
Assistant: No but they are left blank inside and you can _________[4]__________.
Bob: That's a good suggestion.
Assistant: If you want to put numbers on the card, _________[5]_________ that stick on easily and make it really special.
Bob: Thank you. That will be just fine. How much do I owe you?
Assistant: That will be £2.50. I hope they like your choice of card.
ESL Birthday Conversation
Choose the best option (A-D) in the following five questions to fill in the blanks in the birthday conversation given above.
Exercise 2 – Writing a Conversation
For the second ESL birthday conversation activity you need to write a conversation of your own. You can use the example conversations above and the first exercise as templates to help you. You need to decide what the conversation will be about and the people involved. Use as much of the birthday vocabulary as possible. When you have finished you should try to perform it with some friends so you can get experience of speaking as well.

Exercise 3 – Conversation Topics
In the third ESL birthday conversation task you need to speak with a friend. There are two sets of conversation questions below, and you should take one set while your friend or partner has the other set. Then take it in turns to asking each other questions from the cards. When answering a question try to say as much as possible, and if you can think of other questions, also ask them. You can download the conversation questions as some conversation question cards; just click the following picture of the question cards.
If you like these questions I also have a book of 80 ESL Conversation Cards that you can download.
Question set A
What is your favourite part of a birthday party?
Is it better to have a big or small birthday party?
What is the most important birthday in your country?
What presents did you get at your last birthday?
Do people make birthday cakes or buy birthday cakes in your country?
Question set B
Describe the best birthday party you have ever been too?
What sort of presents do you normally take to birthday parties?
Do you think it is important to celebrate your birthday every year?
What sort of food is there at birthday parties?
Do you know anybody with the same birthday as you?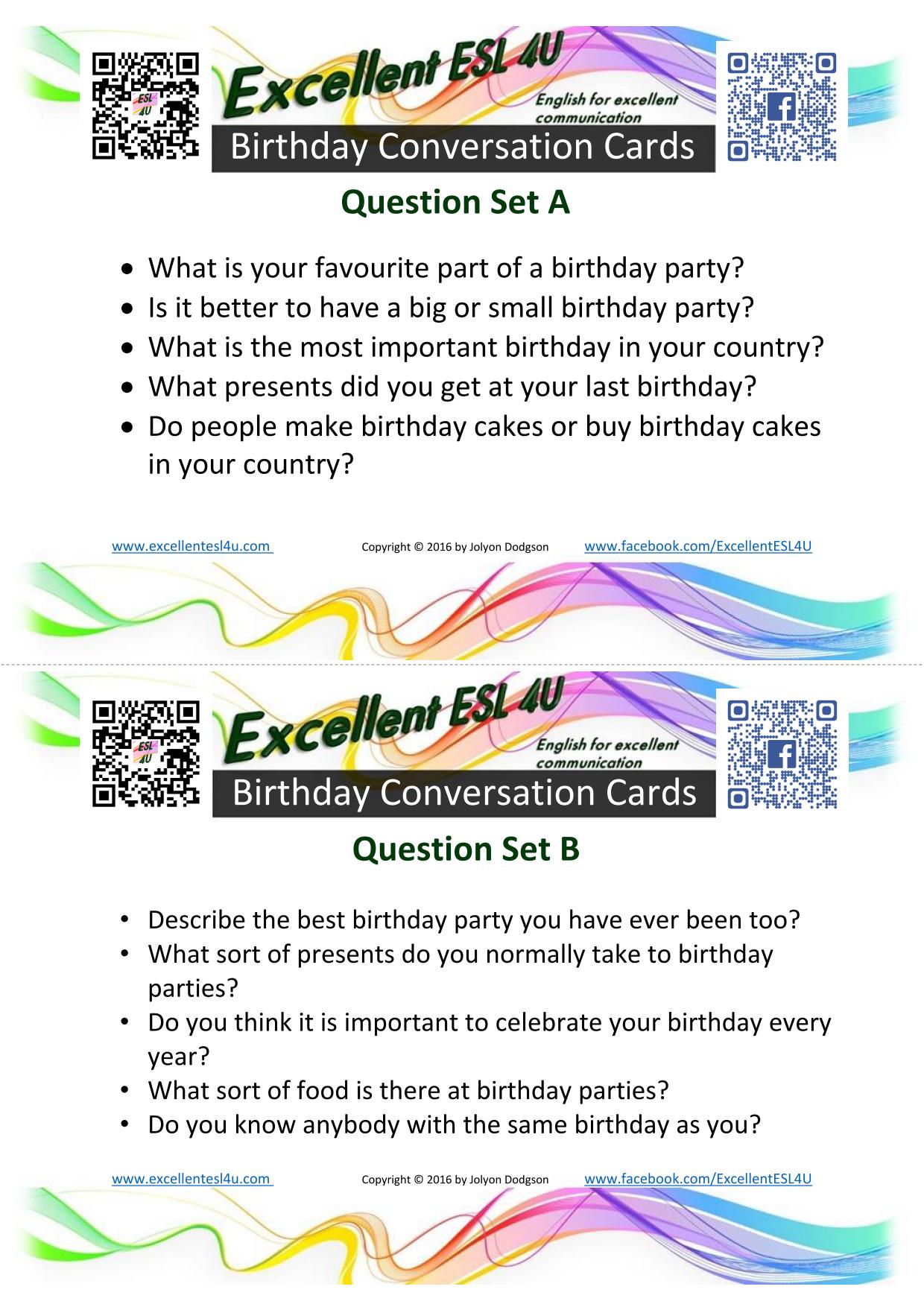 ESL 4u home

›
Conversations
› Birthday