Hello



Welcome to the fourth ezine from Excellent ESL 4U. This ezine has links to the newest topic about university as well as the newest ESL kids topic about the farm animals. There are also links to topics from the archive of pages on the main site.

After that I will give you a tip about learning ESL that will hopefully help you get better. There will be a new tip each issue so keep reading the emails to get all the tips.

Then finally I will ask you for some questions about learning ESL or anything you need advice about. In the following issues of the ezine I will answer some of these questions.
New Idioms Page
I have added a new page all about English idioms. There are examples of 50 idioms with explanations and examples of their use.

If you like this, then look out for my new book coming in a week or two. I will make an announcement on my site as well as in this ezine when the book has been published. It will contain '501 English Idioms'.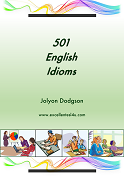 Newest ESL Topic 4 U
The newest topic is all about university. There is lots of vocabulary for you to learn and then many exercises about using the vocabulary when reading, writing, having a conversation or when listening. If you work though all of the following pages you will really learn about the university topic.

ESL university vocabulary
ESL university reading
ESL university writing
ESL university conversation
ESL university listening

ESL Topic from the Archive
The work section of the site tells you all about the vocabulary you need to be able to talk about working and different types of jobs. This is good to know when you are at university as you will have to get a job when you graduate, and you may also need a part-time job to make money while also studying. So it is good to learn all the work vocabulary so you can talk about what you either do now or hope to do in the future.

ESL work vocabulary
ESL work reading
ESL work writing
ESL work conversation
ESL work listening

Newest ESL Kids Topic 4 U
The newest topic for kids on the Excellent ESL 4U site is all about the different types of farm animals that you might need to know about. The page has a vocabulary list and links to several worksheets that you can download and use to help your children learn English.
ESL Kids Topic from the Archive
The page about pets is a page that gives vocabulary to describe different pets that they might have or come across. It will help them to learn the words so they can talk about animals that are kept as pets as well as those from farms that are kept to make food.
ESL Learning Tip
Try to use different types of material to learn English. You more different types of material that you use, the less you will get bored, and so you will be able to concentrate more and learn more English. Use a video one day, then some text the next day, and after that maybe a recording you can listen to.
Your Questions
I want each issue of the ezine to help you get better at English, so I want to be able to answer your questions and give you the help that you need. If you have any questions about learning English or what you should do, you can email me them (just reply to the email address that the ezine came from).

I will pick one, or maybe two, questions to answer in each issue.


---


Thanks for subscribing to my ezine, and thanks for reading it. If you have any comments please let me know (by relying to the email).

Best wishes
Jolyon


---


If you haven't done it already, you can join the Excellent ESL 4U Facebook page to get immediate updates as soon as new material is added to my site.


---


If any of your friends would find the ezine useful, please forward it to them.

If you have got this email from one of your friends, you can get your own free subscription and copy of my free ebook, 'How to Get Better at English: A Guide for ESL Learners,' by signing up at my free ESL book page.


---